PLASTIC FILM CAPACITORS
Metallized plastic Film Capacitors Chart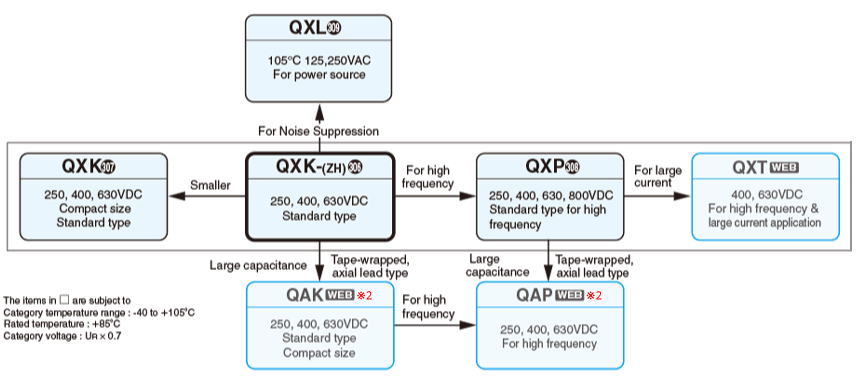 ○ Page number
Foil Type Plastic Film Capacitors Chart
Plastic Film Capacitors for AC Power Based on Applications
○ Page number
※1 Products which are scheduled to be discontinued.
Not recommended for new designs.
Change the type ・ series name by RoHS directive correspondence
The series name was changed by RoHS directive correspondence and the products in the table below were deleted from the catalog. For designing, please select from the new series for your applications.
Outline
Dielectric
Obsoleted Type ・ Series
New Type ・ Series
Standard Type
Metallized Polyester Film
QXJ
→
QXK-(ZH)
Compact Size Standard  Type
Metallized Polyester Film
QXN
→
QXK
Standard Type For High Frequency Applications Dip type
Metallized Polypropylene Film
QXF
→
QXP
For  High Frequency & Large current Applications Dip  type
Polypropylene Film,
and Metallized Polypropylene Film
QXD
→
QXT
Electrical Appliance and Material Safety Law Approved for
AC power source Dip type
Metallized Polyester Film
QXU , QXR
→
QXL
Tape-Wrapped Axial lead Type
Metallized Polyester Film
QAS
→
QAK
Tape-Wrapped Axial lead
Type For High Frequency Aplications
Metallized Polypropylene Film
QAF
→
QAP
Encased Type
Metallized Polypropylene Film
EEH
→
EEC
QYX is RoHS Complaint and has not been changed. EEN is RoHS Complaint and has not been changed.
However, a 6 will be put at 12th digit of type numbering system.