NICHICON CORPORATION launched the GYC series (conductive polymer hybrid aluminum electrolytic capacitors guaranteed operation at 135°C) to meet the needs for operation at higher temperatures, primarily for use in the automotive and industrial machinery fields.
The new series will be exhibited at Power System Japan 2019, held at Makuhari Messe from Wednesday, April 17, to Friday, April 19.
Overview and Development Background
Previously, NICHICON had launched the GYA series (guaranteed operation for 4,000 hours at 125°C) and the GYB series (guaranteed operation for 10,000 hours at 105°C) of conductive polymer hybrid aluminum electrolytic capacitors. The newly launched GYC series increases the maximum temperature to 135°C, while maintaining the current series' size, rated voltage, and capacitance range.
The GYC series is expected to achieve higher performance and longer life in a variety of applications at high temperatures where prior products were unable to reach.
Features
Conductive polymer hybrid aluminum electrolytic capacitors use both conductive polymers and electrolyte solutions for electrolytes. By doing so, they offer both the characteristics of conductive polymers (low equivalent series resistance [ESR], high heat resistance) and electrolytic solutions (oxide film restoration).
As a result of improvements to the conductive polymer forming technologies and the use of electrolytic solutions that have low evaporation at high temperatures, the GYC series reaches operating temperatures of 135°C. The φ8 and φ10 sizes have life expectancies of 4,000 hours at 135°C. Additionally, the rated ripple current at 125°C is 1.3−1.8 times greater than the GYA series.
Comparison with Current Products
GYC series
(new products)
GYA series
(current products)
Rating
35V-270µF
35V-270µF
Case size (mm)
φ10×10L
φ10×10L
ESR
(at 20℃, 100kHz)
20mΩ
20mΩ
Rated ripple current
2,000mArms
(at 135℃, 100kHz)
or
3,300mArms
(at 125℃, 100kHz)
2,000mArms
(at 125℃, 100kHz)
Life (guaranteed)
4,000 hours at 135℃
4,000 hours at 125℃
Main Specifications
: 25V to 63V DC

: 10µF to 330µF

Category temperature range

: -55℃ to 135℃

: φ6.3×5.8L to φ10×10L (mm) (4 sizes)

: 4,000 hours guaranteed at 135℃ or
4,000 hours guaranteed at 125℃ (φ8, φ10)
2,000 hours guaranteed at 135℃ or
2,000 hours guaranteed at 125℃ (φ6.3)

: Chip type

: From April 2019
[Planned production volume: 1 million/month]

: NICHICON (IWATE) CORPORATION
8-17-1, Kubo, Iwate-cho Iwate-gun, Iwate Prefecture
(ISO 9001, IATF 16949, and ISO 14001 certified)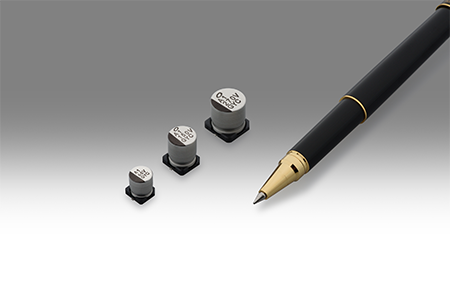 GYC Series of 135°C Conductive Polymer
Hybrid Aluminum Electrolytic Capacitors