Nichicon's Value Creation
Nichicon's Value Creation
Nichicon—supporting lifestyles, industry, society, and the environment
Based on our mission statement, the Nichicon Group is working to create innovative technologies and products with value, both of which are needed by our customers and society.
We started our capacitor business in 1950, later expanding into modules and peripheral circuits, and are now developing our capacitor and NECST businesses.
Beginning with a project in 2010, "NECST" is an abbreviation for "Nichicon Energy Control System Technology," intended to be the basis for a business that would lead to a new era, balancing the protection of the environment with the stable provision of energy. Since its inauguration, we have supported the creation of a society running on clean energy based on module circuits and advanced technologies such as accelerator power supplies developed through international projects and collaboration between industry and academia.
Through a wide range of core "electricity management technologies," the Nichicon Group will continue to support digital society, industry, and convenient, healthy, and secure lifestyles, while contributing to the protection of the global environment.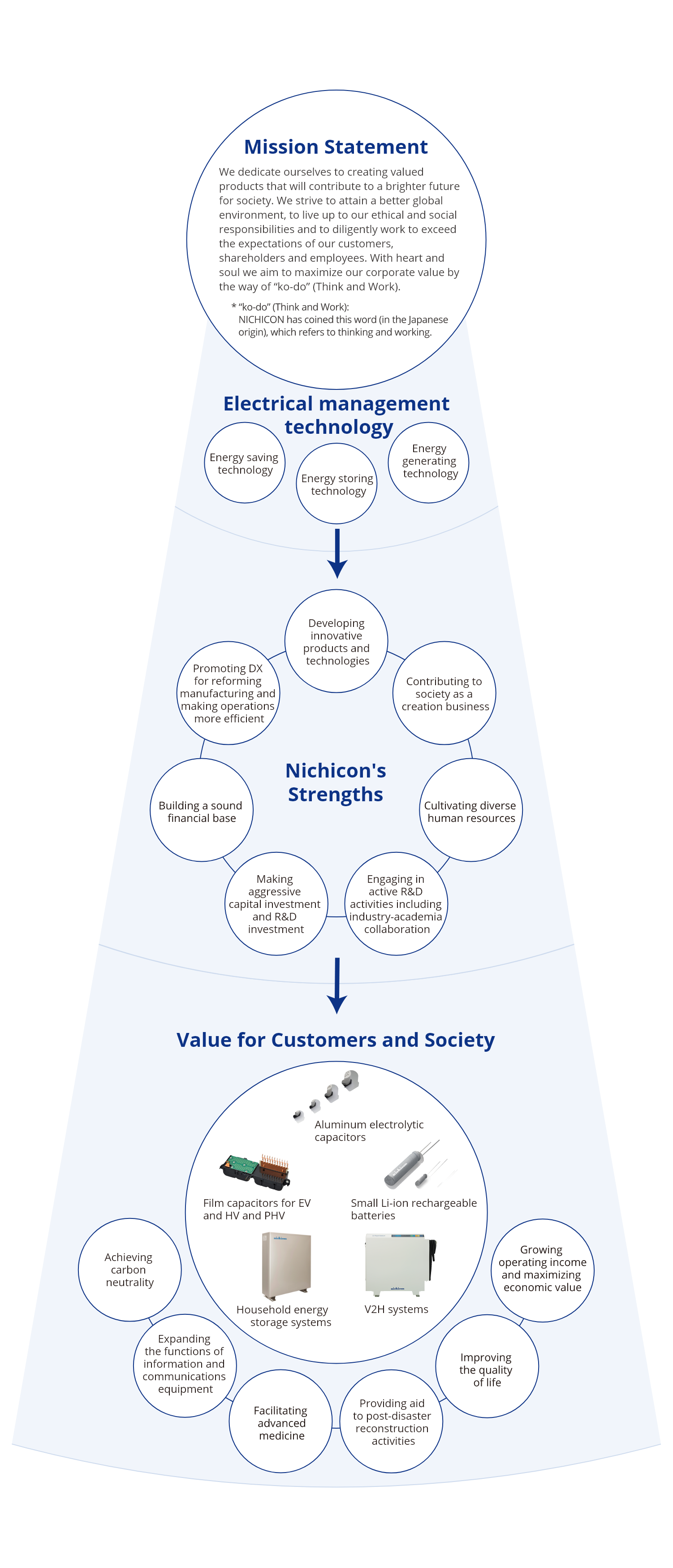 Expanding the functions of information and communications equipment and IoT devices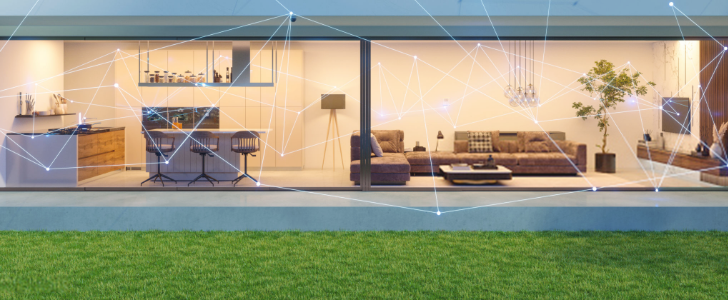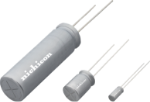 Background and social issues
Developing energy harvesting technologies that use natural energy sources such as solar power allows IoT devices to be used even in remote mountain regions and other areas where ensuring a power source is difficult. Thus storage devices are needed to efficiently utilize energy obtained from energy harvesting.
At the same time, switching from primary batteries that must be replaced regularly to rechargeable batteries is expected to reduce the waste produced when batteries are discarded.
Nichicon technologies and solutions
Small Li-ion rechargeable batteries
New energy storage devices that have been miniaturized using a base of production technologies acquired through the manufacture of aluminum electrolytic capacitors
Long product life: Maintains 80% of capacity after 25,000 charging cycles
Capable of rapid charge/discharge
Low-temperature performance: Can be charged at -30°C
Can be trickle-charged at low current
Safe
Value creation at Nichicon
Utilize energy harvesters as a power source for IoT devices
Used as a power source for sensing devices, such as public infrastructure monitoring
The future of Nichicon
We at Nichicon hope to increase the number of cases where these products are adopted in a range of domains, including smart homes, disaster detection, smart factories, and smart agriculture, as well as in wearable and information communication devices. Li-ion rechargeable batteries are also an essential element in the evolution of car electronics that make automatically operated vehicles possible. Looking to the future, we will continue to evolve our products to address social problems.

Providing electricity in times of disaster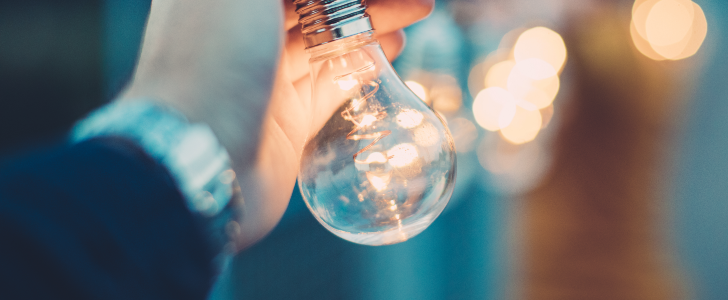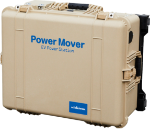 Background and social issues
Recent years have seen frequent occurrences of natural disasters such as typhoons, torrential rain, and earthquakes, causing severe damage, and there is a need for compact energy storage systems that are easy to transport for use in evacuation centers and public facilities, commercial facilities, offices, and homes in the event of power outages.
Nichicon technologies and solutions
Portable energy storage system
Compact, low-cost energy storage systems that do not require installation
Power Mover external power feeder
Quiet, easy-to-use V2L system with excellent portability
Value creation at Nichicon
Providing power feeders and energy storage systems to evacuation centers in cooperation with local governments.
Striving for home production of renewable energy for home consumption.
The future of Nichicon
Nichicon is working with local governments to provide portable energy storage systems and Power Mover external power feeders to evacuation centers, and to promote the adoption of these systems as BCP measures at businesses, commercial facilities, offices, and production sites. We are also using public and industrial power storage systems to assist in the development of power, transport, and information networks centered around solar power generation, energy storage systems, and EV/PHVs.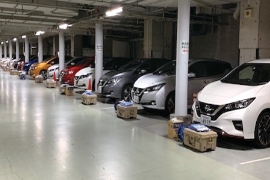 Facilitating the spread of advanced medical care
Background and social issues
Particle beam therapy systems used to treat cancer feature extremely large equipment that may not fit in existing buildings and thus require buildings and equipment costing many billions of yen. Accordingly, we were only able to install such systems in a limited number of hospitals.
Nichicon technologies and solutions
Based on our experience with SPring-8, the SACLA Project, and accelerator power supplies for academic research, Nichicon is pursuing the following:
Formation of alliances with particle beam therapy equipment makers and venture businesses
Development of accelerator power supplies compatible with new particle therapy methods
Reduction in the size, weight, and cost of accelerator power supplies
Value creation at Nichicon
Spread to small- and medium-sized hospitals
Active development of next-generation systems for particle beam therapy
Gained a dominant share of the accelerator power supply market
The future of Nichicon
Particle beam therapy systems are anticipated to become more common as standard equipment. Nichicon will leverage its ability to design and produce 20 different types of power supplies, all with differing specifications, and will develop a comprehensive range of accelerator power supplies for medical applications, to be used at the heart of particle beam therapy systems. While working to improve power supply performance, we will switch from water-based to air-based cooling systems to reduce the size of these systems, and develop new, compact products designed for under-floor installation in treatment rooms.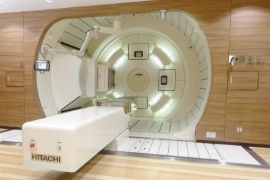 ---
Helping to achieve a decarbonized society
In "2050 Carbon Neutral" Japan has set itself the goal of reducing domestic emissions of greenhouse gases to an effective level of zero by 2050, focusing efforts on renewable energy, vehicle/storage batteries, transport, and housing as growth areas. In the automotive domain, the government is considering moving to limit new vehicle sales to electric vehicles by the mid-2030s. Additionally, prominent countries around the world are increasingly banning sales of gasoline-powered vehicles, and efforts aimed at achieving a decarbonized society are accelerating.
Nichicon has focused its efforts on the automotive domain for many years, supplying parts and components essential to vehicles. In recent years, we have supplied the film capacitors that are core components in drive motors that power electric vehicles to automotive manufacturers worldwide. Additionally, we are promoting the spread of zero-emissions homes (ZEH) through the use of our EVPower Station vehicle-to-home (V2H) system, which provides electricity to homes from electric and plug-in hybrid vehicles, and our Tribrid Energy Storage System™, which works in tandem with solar power generation to link these vehicles to the home. On the infrastructure front, we hope to achieve a society based on sustainable mobility, using quick chargers to support the spread of charging spots. Here we look at the spread of Nichicon products that are helping to achieve a decarbonized society, focusing on electric vehicles.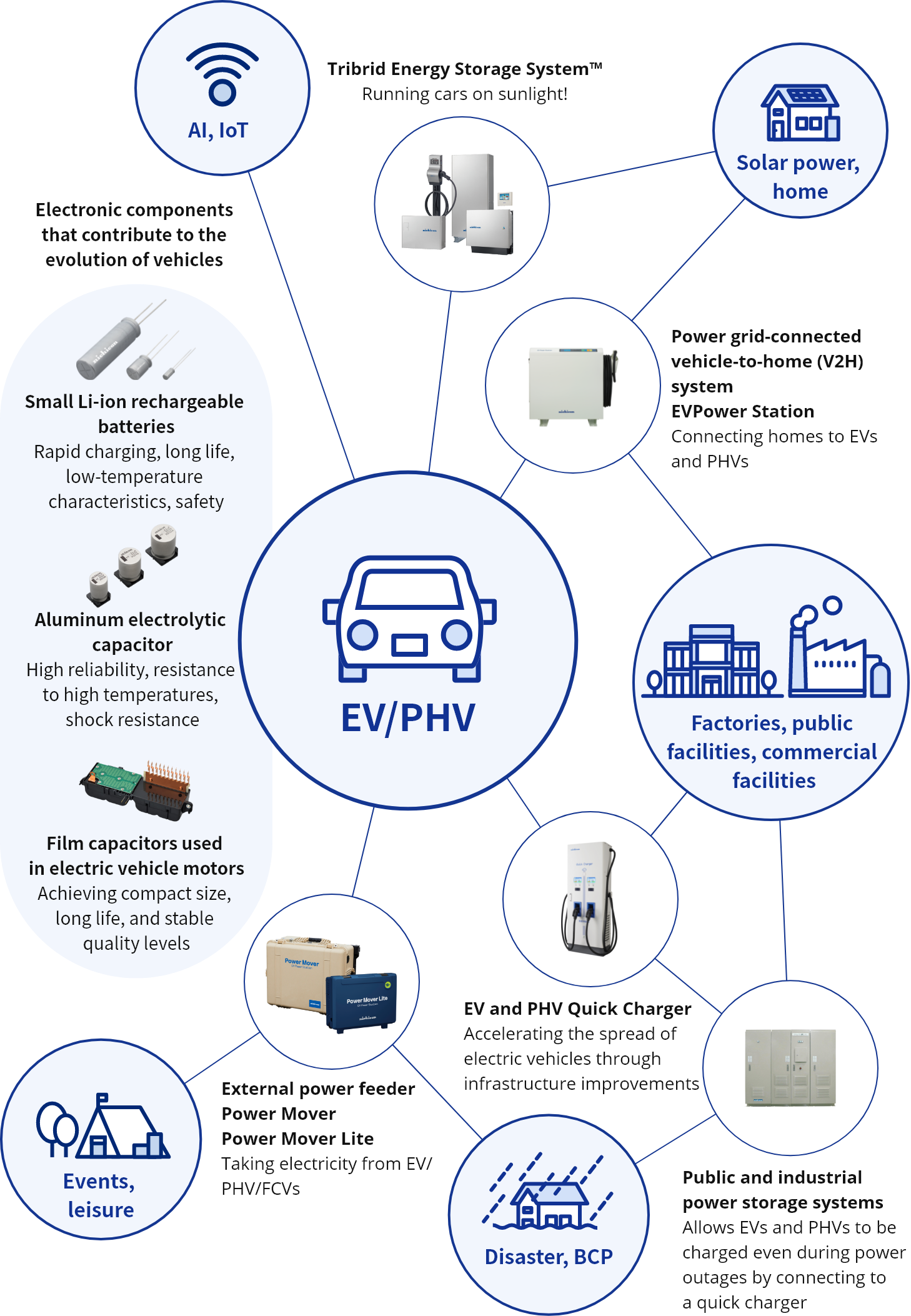 Nichicon has won acclaim for its social contributions to disaster management and reductions in greenhouse gas emissions achieved through innovative technological development and received the "Actions for Climate Change 2020" award from the Minister of the Environment. This award was given in recognition of the company's leading role in the construction of self-sustaining energy systems through products such as energy storage systems and quick chargers for EVs and PHVs, for its support of disaster response measures, and for its standalone IoT-based environmental sensor systems developed in cooperation with other companies, which are expected to see use in a range of applications such as smart agriculture and smart homes.
---