Enhancing Quality and Customer Satisfaction
Enhancing Quality and Customer Satisfaction
Ensuring product safety / Providing accurate information
The NICHICON Group develops, manufactures and sells various products that include a home-use V2H system, EVPower Station, a household energy storage system called the Home Power Station, and a next-generation energy storage system that efficiently links solar, EV/PHV, and storage batteries called the Tribrid Energy Storage System™. In doing so, we emphasize the "consumer health & safety preservation" aspects of ISO 26000, the international standard on organizational social responsibility, and strive to provide accurate information.
Acquisition of ISO 9001 Certification

There are international standards for quality assurance systems formulated by the ISO (International Organization for Standardization). Nichicon's headquarters, its domestic sales offices and production sites in Japan and overseas have been able to obtain ISO 9001 certification.
Acquisition of IATF 16949 Certification

This standard was formulated based on the QS-9000 component procurement standards of the Big 3 automakers in the U.S. (General Motors, Ford, and Chrysler), and adding the requirements defined in standards used in various European countries, particularly VDA6.1 (Germany), EAQF (France) and AVSQ (Italy).
This standard was formulated for the purpose of assuring high quality and price reductions by applying common standards when automobile manufacturers procure components and other products. Within the Nichicon Group, our NICHICON (OHNO) CORPORATION and 8 production sites have obtained this certification.
Utilizing QM/QC Examination (Certification) to enhance product quality
The NICHICON Group has adopted the Japanese Standards Association Quality Management and Quality Control Examination (Certification) as an essential part of its quality improvement measures and is encouraging qualification in all departments, centering on quality management, technology and production units. Adherence to this standard assures Level 1 and other certifications, which improve the quality of our products and services.
Boosting the reliability of electronic components
The NICHICON Group is a member of the Subcommittee on Electronic Component Safety under the Electronic Components Technology Standardization Strategy Committee of the Electronic Components Board in the Japan Electronics and Information Technology Industries Association (JEITA). Through this participation, we work to maintain or improve component reliability technologies and promote awareness of electronic component knowledge.
In addition, participating in the committee enables us to obtain information quickly and accurately so that we can respond to issues related to electronic component reliability and trends in product safety legislation and safety standards as well as address social demand for safety and security.
Customer-based response at the Customer Consultation Office
The NICHICON Group has established a Customer Consultation Office to provide consultation and field requests regarding the BtoC* products it develops, manufactures and sells, such as V2H and household energy storage systems.
The Customer Consultation Office is the NICHICON Group's only consumer consultation service, so customers can go there for any questions about our products, inquiries about purchasing, or requests for advice on product selection. We have received a wide variety of inquiries from customers who have already used our products, on matters such as how to use the products, repairs for defective products, and requests for after-sales service.
For customers who wish to make such consultations and inquiries, the Customer Consultation Office is their first point of contact with NICHICON. While of course providing information in a speedy and conscientious manner in response to such inquiries, we also provide appropriate guidance based on the individual needs of each customer. We are working every day to improve the quality of our service and make more and more people into "NICHICON fans," and careful to always provide highly conscientious customer service.
A contraction of "business to consumer"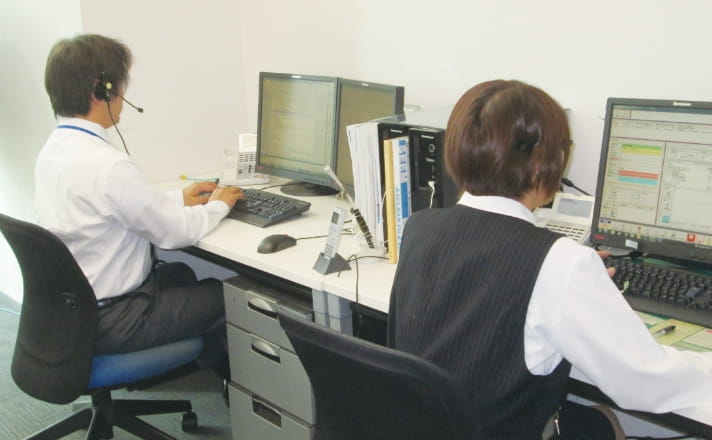 Customer Consultation Office
---